Facilities Available
Ao Udom
Hard Stand  80,000m2
Warehouse 2,800m2
FTZ 1 Laem Chabang
Hard Stand 36,800m2
Warehouse 10,000m2
FTZ 2 Laem Chabang Port
Hard Stand 35,300m2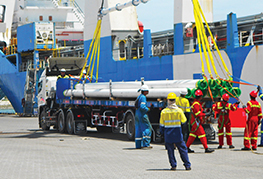 Multi-Lift loading with pipe hooks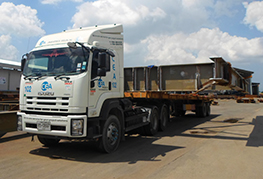 CEA fleet used for transporting steel
CEA Project Logistics has the knowledge, equipment, personnel and skills in place for the transportation, handling, consolidation and storage of bulk steel materials within the region of Laem Chabang, Thailand.
Case Study 1
Nasco Hiap Seng – TMP – JGC Bintulu
CEA provided a total logistics supply chain solution for the shipping, customs clearance, handling and bulk storage of pipe, flange connections, structural steel and plate of approximately 30,000 RT. Materials were stored at our facility under 24 hour security. All materials were delivered to our customer's fabrication facility in accordance with their MTO requests. Stock inventories were maintained using our materials handling and management software.

Case Study 2
Bechtel – Queensland Oil & Gas Module Fabrication
CEA provided receipt under vessels hook of 60,000 tons of structural steel and pipe for the QCLNG module fabrications in Laem Chabang. CEA's scope was to receive the cargo on multiple charter shipment and containerised cargo, provide customs clearance, transportation to site, handling and offloading to Bechtel's laydown yard. The total project duration was approximately 18 months.
With over 160,000 m2 of storage space and options of Free Zone and General Storage solutions coupled with expansive yards and customisable warehouses, we are strategically placed to offer our clients a valued solution for consolidation and handling.
To download the case study Click Here
Click to learn more about CEA Storage and Handling services