CEA Cross Border Services
Thailand - Myawaddy
Maesai - Tachilek
China - Ruile-Muse
Storage & Cargo Consolidation
Yangon - Myanmar
Laem Chabang - Thailand
Stuffing & De-stuffing
Transportation LCL/LTL & FCL/FTL
Thailand Nationwide - Mae Sot
Myawaddy - Myanmar Nationwide
Import Permits
Temporary
Permanent
Customs Clearance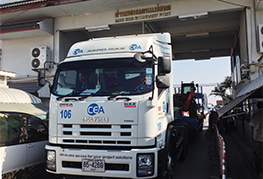 CEA Prime Mover at the Mae Sot border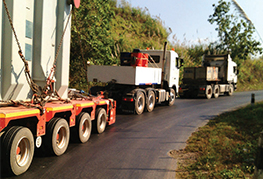 Convoys leave daily from both sides
CEA Projects Myanmar has cross-border transportation services from Thailand to Myanmar offering customers full cargo consolidation, transportation, customs and duty clearance.
CEA can offer the flexibility of new routes to all our clients, additionally, we also provide visibility, security, extra capacity and the option of multi-modal cross-border transportation for finished goods, machinery and raw materials. A majority of shipments are consolidated at CEA Headquarters in Laem Chabang, Thailand, after consolidation they are delivered with full DDP to customers in Myanmar.
CEA's operational bases are located to offer our clients a valued solution
Regular road services connect Myanmar and Thailand enabling us to make substantial savings for our clients when compared to Air Freight Transportation. Our fleet includes an In-Vehicle Management System (IVMS) giving the customer greater insight and control. With years of experience both domestically and internationally, CEA is well-versed with the logistics involved in cross-border transportation within the ASEAN region.
To download the featured service Click Here
Click to learn more about CEA Myanmar