Typical Applications
In-process protection
Edge spray of coils and sheet stock · void spaces
Double wall void spaces
Fogging
Metals Protected
Hot/cold-rolled steel
Silicon steel
Stainless steel
Cast iron
Zinc
Aluminium
CEA VpCl® Reduces Costs by
Increased effective protection throughout
Efficient delivery systems that make it economical to treat hard-to-protect items
Ease of application
Improved health, safety, and environmental impact control
Elimination of extra processing steps as in most cases there is no need to remove the VpCI® product
Lifespan extension of equipment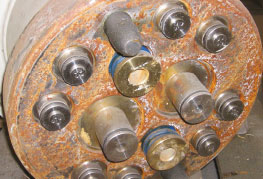 Without VpCi® protection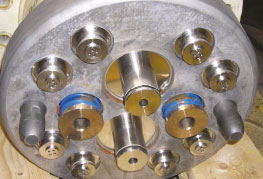 With VpCi® protection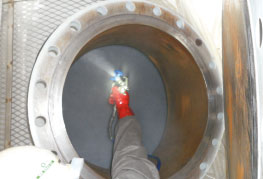 VpCi® can be used on any size equipment
VpCI cortec preservation uses vapor phase inhibitors which provide multi-metal corrosion protection, leaving a thin, self-healing film that is environmentally friendly. Protection is immediate and easy to remove if required.
How can CEA VpCl® products help me?
Corrosion is a constant threat to all types of metal parts, even more so when packaged for storage or transportation. Traditional methods for anti-corrosion can be messy, costly, and may pose possible hazards to people and the environment. CEA VpCI® Cortec Preservation technology represents a breakthrough solution in corrosion prevention.
Our VpCI® products protect metals with a chemically adsorbed molecular layer that provides multi-metal corrosion protection. Complete coverage is achieved – all surfaces, including crevices, cavities, and other inaccessible void areas receive total protection. The VpCI® barrier is self-replenishing and protects for up to two years. Exceptional product protection is a proven industry result without the labor-intensive clean-up required with conventional oil coatings or other inhibiting products. CEA VpCIs® are environmentally safe and not based on nitrites.
CEA VpCI® technology. The safety net your products and equipment deserve.
How does VpCl® Work?
VpCl® applications can protect products stored indoors as well as outdoors and in adverse weather conditions, the latest VpCl® technology increases profitability by solving a corrosion issue instead of choosing to ignore it.
Vaporizes
Condition enclosed atmosphere with a protective vapor
Vapor migrates to all recessed areas and cavities
Vapor condenses on all metal surfaces
Ions dissolve in moisture layer (water electrolyte)
Protective ions are attracted to metal surfaces
Ions form a thin, monomolecular protective layer surface
How can CEA VpCl® products be used?
Multiple types of VpCl® applications can be used in corrosion prevention across a multitude of platforms, for example, you can:
Fog a heat exchanger in minutes and eliminate any shipping or storage corrosion problems
Protect on-site, operational electric circuitry
Easily spray valve flanges and stems with an outdoor coating for extended protection
Boost the protection of your lubricating oils with an additive effective for multi-metal systems
When correctly applied, CEA's VpCl® Technology will substantially cut time and costs throughout the product or equipment's life cycle: manufacturing, storage, shipping, and field service.
CEA's VpCl® products eliminate extra processing steps such as cleaning, degreasing, rust removal, pickling, sandblasting. The result being less re-work, fewer rejections, improved quality, reduced rust claims and extended equipment life.
To download this featured service Click Here
Click to learn more about CEA Storage and Handling services