Heavy Transportation Equipment
MAN TGX 680Prime mover
MAN TGX 640 Prime mover
Hino 500 Prime mover
Isuzu DECA 360 Prime mover
VOLVO FH 520
VOLVO FH 440
Multi axle hydraulic trailer
Flatbed trailers
Drop deck trailers
Lowboy trailers
Skeletal trailers
Extendable trailers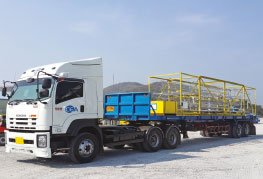 Oil refinery parts leave for Bangkok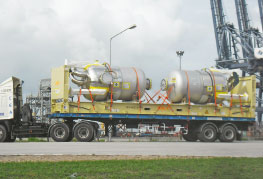 Hino 500 arrives at Laem Chabang Port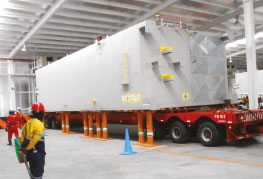 Oversized cargo ready for transportation
Regardless of the terrain, CEA has the experience and equipment to devise the best solution for the heavy transportation of a large variety of structures, materials, and equipment. CEA is equipped to handle heavy loads over public roadways, waterways, or through congested workzone's using specialized trailers and other transport systems.
When it comes to Heavy Transportation we engineer the move, identify the best-suited equipment, and manage all the logistics and jurisdictional-load restrictions. On the ground throughout Asia, we've worked closely with authorities from numerous provinces and countries to allow for routing of equipment through major thoroughfares in congested urban areas to achieve the shortest possible execution time. Every location in our Asia-wide network also offers secure storage.
Whether you require a single flatbed load or multiple low boy trailers, CEA will provide you with professional and experienced personnel. Heavy transportation truck and trailer services are provided with safety and efficiency in mind while keeping our pricing competitive. Our fleet includes an In-Vehicle Management System (IVMS) giving the customer greater insight and control. For over 15 years we have proudly led the industry in customer satisfaction.
With years of experience both domestically and internationally, CEA is well-versed in the logistics involved in with heavy transportation in both urban and on-site locations.
CEA Project Logistics can provide complete heavy transportation services including loading, off-loading and erection of components, land to barge trans-loading, transport fixture engineering and fabrication, travel route planning and project engineering consultations. We have become the Asian leader in high volume heavy transportation and cross-border transportation specializing in Thailand, Myanmar, Singapore, Malaysia, Vietnam, and Laos.
To download the feature Click Here
Click to learn more about CEA Heavy Transport services.