Locations
Laem Chabang Port, Th.
Bang Yai, Bangkok, Th.
Project Duration
6 Months
Quantity
Motor Carriage x42
Trailer Carriage x21
Dimensions
Motor Carriage (m) L22xW3.1xH3.9
Trailer Carriage (m) L21xW3.1xH3.9
Weight
Motor Carriage 40.67 T
Trailer Carriage 33.27 T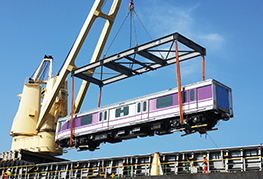 The First carriage lifted from the vessel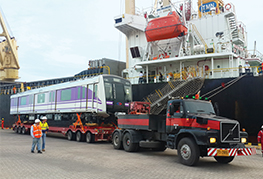 Carriage leaves port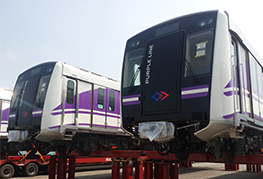 In storage at the CEA Free Trade Zone
CEA Project Logistics have been contracted to undertake a very high profile transportation project for the Mass Rapid Transit Authority of Thailand.
The Purple Line project consists of 21 train sets with three carriages in each set. Throughout the six-month contract, each carriage will arrive by sea from Yokohama in Japan to Laem Chabang Port and will be delivered to the MRTA depot in Bangkok where they will be prepared to enter service on the new Purple Line.
The MRTA Purple Line is a 23-kilometer elevated heavy rail transit system with 16 elevated stations situated along the route. The Line will have an initial usage of 200,000 passengers a day, which is expected to increase to 290,000 passengers a day by 2022.
CEA Provide:
Port Supervision to receive cargo alongside the vessel under the hook
Customs Clearance of carriages & equipment
Transportation of carriages & equipment to the CEA Free Trade Zone
Unloading & Storage at the CEA Free Trade Zone
Loading the carriages onto CEA Hydraulic Trailers
Inland Transportation to the MRTA depot in Bang Yai, Bangkok
Unloading the carriages & equipment at the Bang Yai depot using specialised 15 Tonne jacks.
To download the case study Click Here
Click to learn more about CEA Heavy Lift and Heavy Transport services