Location
Laem Chabang, Thailand
Duration
5 Days
Volume
4,103 Revenue Tonnes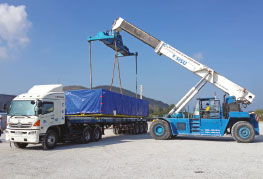 Cargo loaded and prepared for port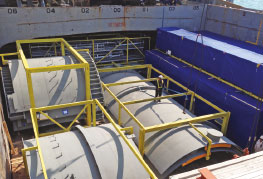 Cargo loaded onto the twin decks
CEA Project Logistics were employed to receive 83 pieces of break bulk cargo from Khao Hin Son, Thailand. The cargo would be consolidated at the CEA break bulk consolidation facility in Laem Chabang, Thailand and prepared for load out at Laem Chabang Port. The cargo consisted of oil refinery parts bound for Mongla, Bangladesh.
CEA Provided
Manpower
Cranes, reach stacker, forklifts
Cargo consolidation lay down area
Lifting equipment as necessary
Trucks, trailers, specialised trailers
Transportation from Laem Chabang – LRT
Supervise load out operation
Port communication, wharfage, and handling
As of 2011, Laem Chabang port became the 22nd busiest container port in the world. Much of the international shipping reaching Thailand goes through Laem Chabang.
All tarpaulins used for our break bulk consolidation projects are manufactured onsite at the CEA plastics facility in Laem Chabang Thailand.
To download the case study Click Here 
Click to learn more about CEA Cargo Consolidation services