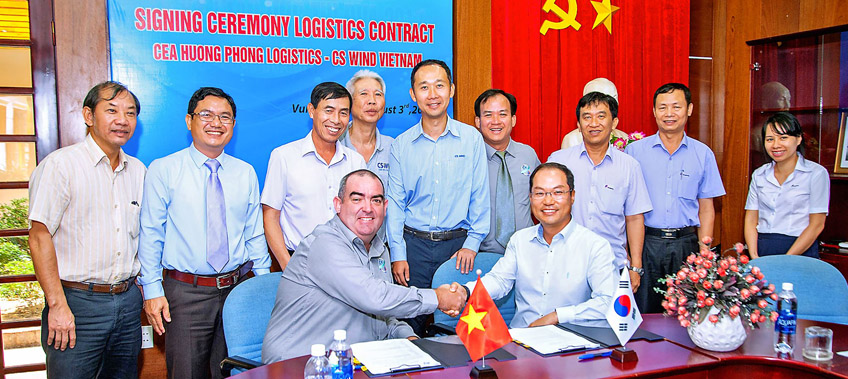 CEA Huong Phong Sign Contract With CS Wind
CEA Huong Phong has just signed a two-year contract with the South Korean Company CS Wind to provide a range of logistics services. CS Wind is the world's leading manufacturer of wind turbine towers and has facilities in Vietnam, China, Canada, Indonesia and Malaysia. The contract is for the supply of 20,000m2 of open storage, logistics support and equipment rental. This will be the major stepping stone for CEA Huong Phong as more logistics services will be required for the transportation and heavy lift of the larger tower sections.
CEA Huong Phong Logistics JSC is a partnership between Huong Phong Company Ltd and CEA Projects Vietnam headquartered in Ba Ria / Vung Tau. The joining of the two companies provides an optimal workable logistics company through the structure and support of the Ba Ria / Vung Tau committee owned Huong Phong and the experienced regional logistics company CEA. Vietnam's logistics infrastructure led by the Ba Ria / Vung Tau province continues to advance at speed. This infrastructure has seen the organic growth of the strong existing business as well as the introduction of more foreign invested businesses into the market. Our partnership has been conceived to meet this growing demand for safer, more professional services within the logistics market.
CEA Projects experienced team of logistics professionals provide a full scope of high-quality logistic services and manages the latest advances in safe processes in both the local Vietnam market as well as internationally. CEA Projects Vietnam has also just completed the first OOG cargo shipment from HCMC to Danang. The cargo was a bottling machine for a local drinks company. The project was awarded out of Europe, this is the first of a number of smaller project shipments that CEA have been awarded.
CEA Projects Vietnam officially opened on June 2016. The new offices are fully equipped and ready to provide customers with sales, technical and administrative support. Ho Chi Minh, as the biggest city is considered to be the epicentre for business and is the ideal location for CEA to service current and future clients across the region.