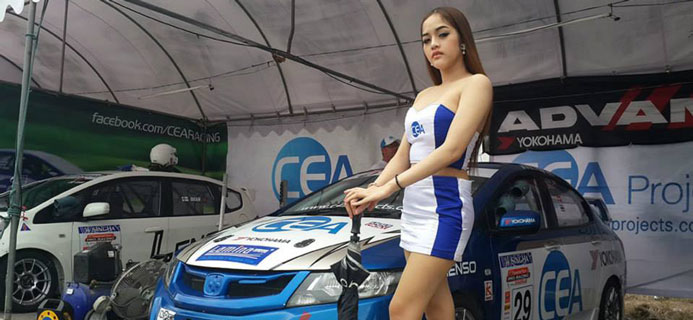 Thanachart Bank Pro Racing Series Round 2
Round 2 of the pro racing series headed to the Kaen Krachang circuit in Phetchaburi.
During the Friday inspections, officials had declared that CEA Racing teams engine mounts were irregular although they were exactly the same at the previous round! New mounts had to be ordered they arrived on Saturday afternoon just in time to make final scrutineering, as if the mounts weren't enough the officials then deemed the skirt broke weight rules and asked for It to be removed, again there was no such problem at the previous meeting!!
Saturday was qualifying day, intermittent spells of rain fell upon the circuit throughout out the day so CEA Racing opted for wet set up, a heavy shower graced the circuit just before the Pro Car qualifying session this would have been perfect for the CEA team, however, stewards decided to postpone the race before qualifying until the track had dried further, in turn, delaying qualifying. Thomas with the wet set up faced a dry session for qualifying which wasn't conducive to a fast time however he pulled out a blistering lap to manage 5th on the grid for the first race.
Sunday Race 1
Thomas made a sensational start from 5th challenging 4th place driver right at the first corner, as the track at Kaen Krachang is so narrow overtaking is at a premium and Thomas was unable to get past the tricky car in front. A few laps later Thomas tried to again to get past this time making a slight mistake which let 6 & 7 cars overtake him as he tried to defend his line, with the laps running out Thomas made one final surge and retook 6th place, he consolidated his position and then went about orchestrating his fastest lap which would determine grid positions for race 2. Amongst lots of traffic Thomas managed the 5th fastest time of the race giving him 5th on the grid for race two.
Sunday Race 2
Within the first lap, Thomas was up to 4th and challenging hard for 3rd when the cars in front touched sending second place spinning, Thomas narrowly avoided the car at the hairpin and was now in 3rd place. As the laps wore on the number 35 car of the Endless Singha team was bearing down on his gearbox and when Thomas run slightly wide, the 35 car seized his opportunity and managed to pass, Thomas attacked at every corner but could find no way past on this narrow track and had to settle for 4th place.
When the final results were announced Thomas and the CEA Racing Team were 4th on the day and 4th overall in the driver's championship but are still leading the team championship by 4 points.
The next round is at the Bira Circuit Pattaya 30/31 August
To learn more about CEA Racing & TR-Motorsport Click Here