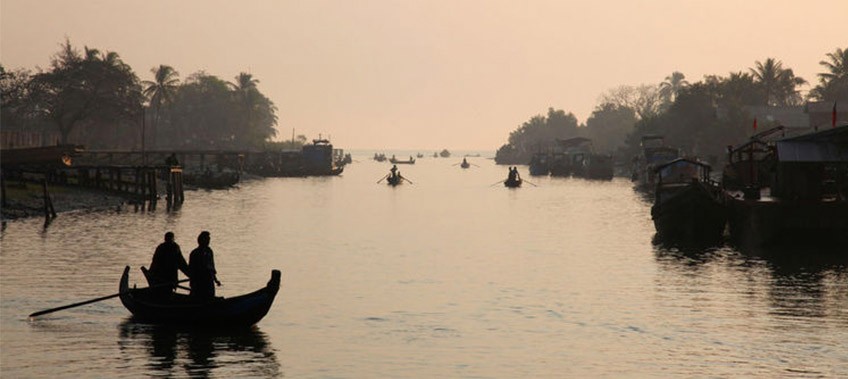 Sittwe Port, Myanmar
The deepwater port at Sittwe in Rakhine State in Myanmar is located on the Bay of Bengal at the mouth of the Kaladan River. The port has been financed and constructed by India at a cost of US$120 million and is part of the Kaladan Multi-modal Transit Transport Projection a joint collaboration between India and Myanmar with India looking to gain a greater influence in the newly opened up country. The overall aim of the project is develop the infrastructure in South Western Myanmar and North Eastern India, areas that had previously been quite isolated and lacking in development.
Before this collaboration between India and Myanmar the only alternative route to India's landlocked North East was through a strip of Indian Territory nestled between Bangladesh and Bhutan. This corridor was known as the Siliguri Corridor and resulted in serious delays in the transportation of goods as well as the associated higher costs. After many years of attempting to build a similar project in Bangladesh, India turned their attentions to Myanmar and began the project back in 2010.
The development of the port has seen massive improvements in the local infrastructure including improved highways and the dredging of the Kaladan River to enable cargo vessels to navigate the river from Sittwe to Mizoram in India. These improvements have played a massive role in reducing transportation times and costs – something that is naturally very important in this rapidly developing part of the World.
Once the entire project is completed in late 2015 it envisaged that the whole area will see great economic gains although there has admittedly been some social and environment cost with the widening of the inland waterways and the building of highways. Efforts are being made to minimise this impact as much as possible but overall the gains are seen to be far outweighing the costs.
Myanmar is a rapidly developing country that has been in an imposed wilderness for several years. This new deepwater port at Sittwe along with a number of other projects in the country has seen an influx of overseas companies looking to do business in Myanmar and these closer links with India can only help build trade links and enhance trade not only between Myanmar and India but play a part on the global scene.
Companies such as CEA Project Logistics are an ideal business partner for companies looking to move to region after building their business originally in Thailand and Singapore and latterly in the Thilawar commercial port in Yangon, Myanmar. If you would like to discuss any of your logistical needs or are considering doing business in Myanmar contact CEA today for more details.
Click to learn more about CEA Myanmar