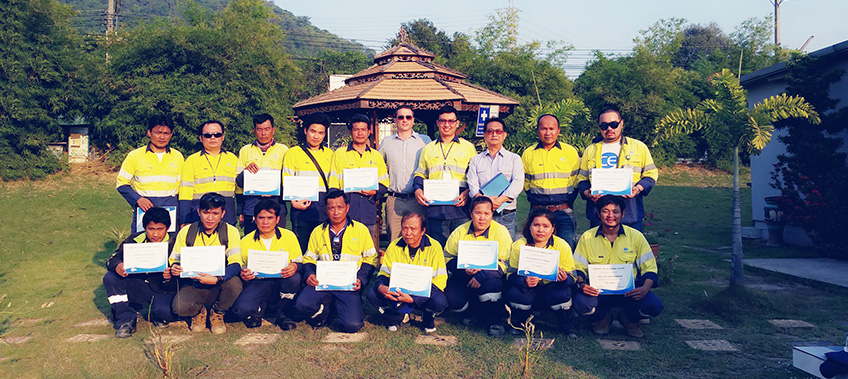 CEA Safety Standards Awarded
CEA Project Logistics Thailand has received a very special safety award from three companies undertaking the Ichthys Project in Darwin, Australia. The award was presented in recognition of a world-class safety performance of 1,089 consecutive days without a lost-time injury. The 1,089 days was the actual length of the contract between CEA and the three companies, Inpex, JKC and CUEL. CEA's scope of works for this project was Quarantine compliance for fabrication yards, warehouse housekeeping and waste management, Quarantine inspection for fabrication yards, Modules, Electrical & Instrument inspection and Quarantine compliant training for all module fabricator's and sub-contractors. CEA are accredited and certified by The Department Of Agriculture, Fisheries and Forestry (DAFF) in Australia.
Along with the main award, each member of the project teams received an outstanding achievement certificate from CEA Operations Manager Michael Andrews.
Michael Andrews Operations Manager for CEA Project Logistics stated. "The logistics industry on a whole is a high risk working environment and although we will never be able to completely eliminate the risk, we feel at CEA we have the correct procedures and strategies in place to minimize the chance of injury as much as possible.  Receiving this award is a credit to our HSE teams who work tirelessly week in, week out to refine and improve the awareness of our employees when engaged on all projects"
For more information on CEA HSE practices Click Here