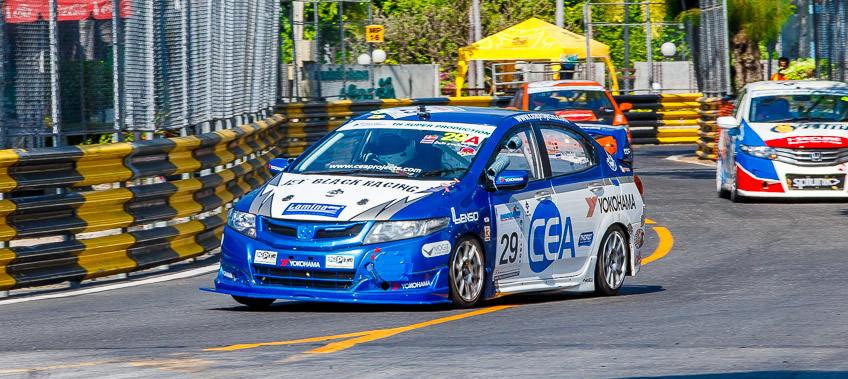 CEA Racing Conquer Bang Saen
CEA Racing in Collaboration with Jet Black Racing finished off the season in style with two wins from two races at the Bang Saen Festival of Speed.
Bang Saen is a tight and twisty street circuit, not dissimilar to Monaco or Macau as the track is so narrow crashes are frequent and makes for an exciting spectacle.
CEA's #1 driver Thomas Raldorf was competing in the Endurance race series in a separate car, this left a vacant spot in the now famous #29 CEA Race Car. Anders Majgaard and his team from Jet Black Racing duly filled the vacancy and delivered a perfect weekend with a virtuoso performance from the Danish Dynamo.
The Qualifying session was an action packed event with several crashes resulting in the safety car making an entrance on numerous occasions. Anders managed through all the chaos to post the third fastest time. As the lights went out the cars raced to the first corner, the obligatory pile up ensued, Anders narrowly missed a major accident just glancing one of the slower cars, although a couple of places were lost these were soon regained as Anders and the #29 car blew away all the competition to finish the race 17 seconds clear of the field. The damage had been sustained to the front right of the car, however, the CEA mechanics led by Sven Thummel worked well into the night to fix and patch up the car.
A very hot Sunday morning greeted the teams, with the car repaired it was time to challenge for another win. Yesterday's grid had been reversed so Anders would start 5th, but this didn't seem to trouble him as Anders proved his skill at starts by catching two cars by the first corner! The lead cars soon succumb to some sublime overtaking moves and as a flurry of crashes and safety cars went behind him, Anders coasted to victory under yellow flags much to the delight of Jet Black Racing Manger Peter Jaeger.
As always during the scrutineering in Parc Ferme the team held their breath until the final result was official, delight filled the pits as the result was announced and a cold beer or two was had. CEA & Jet Black Racing had come to this potentially tricky track and conquered all. Thomas Raldorf Team manager of CEA Racing said "This weekend was the icing on the cake and the cherry on top for 2014, a fantastic drive by Anders and once again the CEA mechanics showed their worth with their continued effort and commitment"
Planning will now start on the 2015 season and regaining the driver's championship…….
To learn more about CEA Racing & TR-Motorsport Click Here