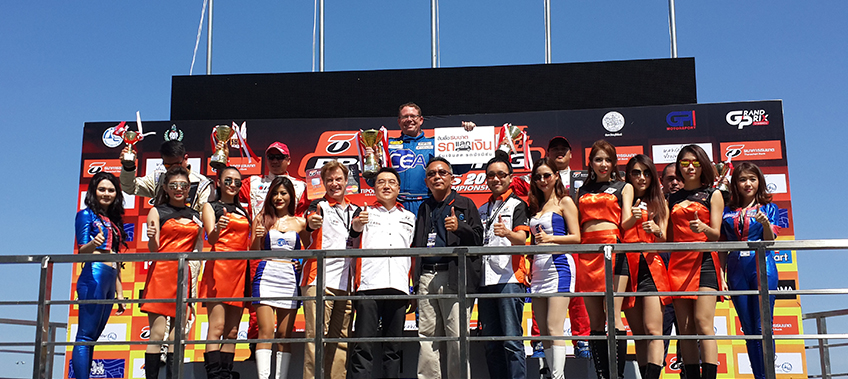 CEA Racing 2014 Champions
CEA Racing win the 2014 Pro Racing Team Championship in style at the Chang International Circuit Buriram, Thailand.

Thomas and the #29 car started 2nd place on the grid for race one, however as the lights went out he stormed to the first corner and by the second corner had already built up a significant lead. From then on it was a pretty straightforward race as the chasing pack could do nothing to stop his charge to the finish line.

Thomas was on pole for race two due to getting the fastest lap time in race one of 2:06.1 , however, the race didn't pan out as expected, once again he made a blistering start! however some wayward driving by the inexperienced followers caused Thomas not only once but twice to run wide allowing the pack to get in front. As the laps counted down Thomas battled his way back into contention crossing the line in 4th place. 

The disappointment of 4th place that was felt was soon washed away as the news CEA Racing had won the Team Championship filled the paddock, also Thomas had consolidated his 2nd place in the drivers championship added to this was the  S1R Championship that CEA won earlier in the year, so all in all it has been a fantastic season for CEA Racing! CEA Racing would like to thank all the sponsors who made this great season possible and to all the fans who have shown their support throughout the year. Thoughts now turn to planning for 2015 and hopefully more silverware, CEA Racing will be back!
To learn more about CEA Racing & TR-Motorsport Click Here