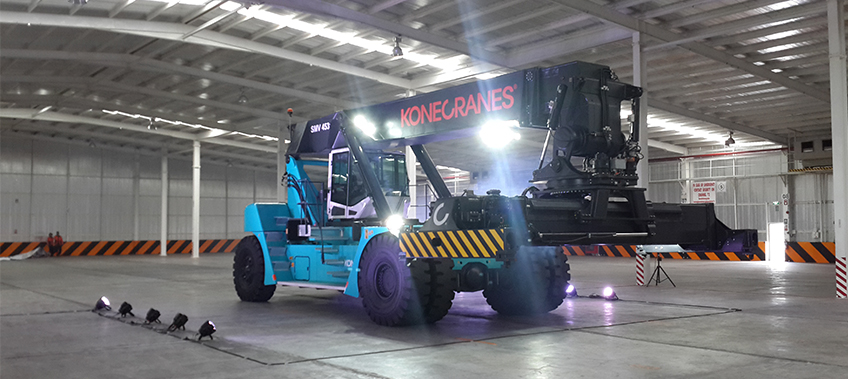 CEA Host Konecranes Generation C Launch
CEA Project Logistics played host to the KONECRANES Generation C launch at their Free Trade Zone Warehouse in Laem Chabang Thailand.
The event, organised by the KC Lift Trucks division of KONECRANES drew a multinational crowd from all over Asia with more than 100 guests in attendance eager to see the next generation in lift trucks. Before the grand unveiling Patrik Lundback Regional Sales & Service Director opened proceedings by welcoming all guests and thanking them for their interest in Generation C, further adding "The Generation C lift truck is a collection of refinements and bold new technologies that improve our lift trucks in ways that make them safer, cleaner, quicker and more cost effective. We are very happy to be the first region outside of Europe and North America to launch the Generation C."
The C series lift truck includes a completely new driver's cabin with first-in-class features to enhance safety, comfort and productivity. The C series also boasts increased reach stacker lifting performance, an enhanced TRUCONNECT® remote monitoring system and improved engine performance. The C series is equipped with common platform diesel engines that meet emission legislation levels EU Stage II / EPA Tier 2, EU Stage IIIA / EPA Tier 3, or EU Stage IV / EPA Tier 4f. These new engines are in general several decibels more silent and can save up to 6% in fuel consumption over previous ones.
After the formalities, a sumptuous buffet lunch was provided for all allowing some time for networking and the forging of new friendships.  After lunch, a presentation was given about Generation C to showcase the state of the art systems developed by KONECRANES which are featured in their new line of vehicles. As the unveiling grew near a traditional Thai war dance began increasing in tempo until the curtain was dropped and the guests got their first glimpse of a Generation C Reach Stacker, the unveiling was accompanied by a fantastic light and smoke show. As the smoke cleared the guests got up close and personal by being allowed on to the vehicle and into the futuristic cabin.
The new driver's cabin offers operators class-leading spaciousness and superior visibility made possible by an even more ergonomic layout with integrated seat-mounted controls. The industry's first 7" touch screen color display provides full truck monitoring including eco-drive, fuel management and driver login. The touch screen monitor also supports an optional integrated rear-view camera and tire pressure monitoring.
The CEA Facility was chosen as a venue due to their state of the art Air Conditioning systems installed at their Free Zone Warehouse in Laem Chabang, although temperature outside was a sweltering 36 degrees centigrade all the guests inside were enjoying a lot cooler weather!
Click to learn more about CEA Storage and Handling solutions
To learn more about Konecranes Generation C and other vehicles in their range visit www.kclifttrucks.com
To see more images from the event go to the CEA Flickr page