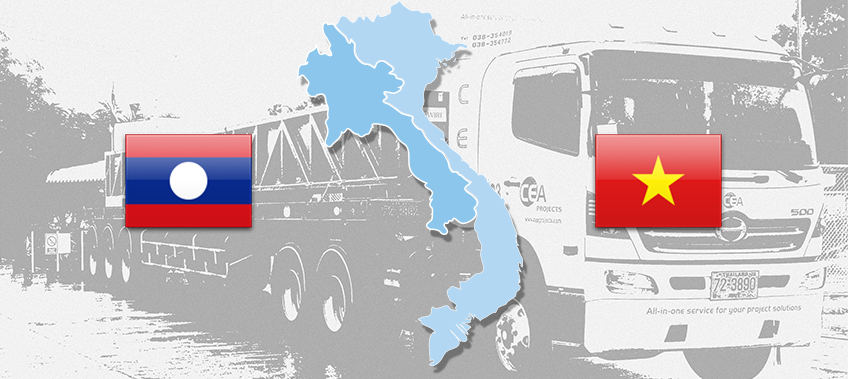 CEA Open Logistics Bases In Vietnam & Laos
CEA Project Logistics Thailand are very proud to announce that due to our continued growth and the increasing need for logistics services in South East Asia we have now opened two new logistics bases in the region. Carrying on from the success of CEA Myanmar we can now inform you that we have expanded into Laos and Vietnam. With these new strategic locations, CEA can now offer even more services by increasing our regional footprint. Both Laos and Vietnam will complement our already well-established facilities in Thailand and Myanmar.
CEA continue to expand as one of the most valuable and innovative Logistics service providers in the ASEAN region, constantly identifying new markets in which to seek out new possibilities and relationships. Over the past four years, we have seen our reach expand at an increased pace, opening new facilities in Yangon, Myanmar and more recently Songkhla, Thailand, with latter servicing the Oil & Gas sector in the South of Thailand.
Vietnam's logistics infrastructure is already on a level with Thailand, a level which will soon be surpassed as Vietnam is more accommodating to foreign companies and investment than its ASEAN neighbour. The country's geographical location makes it particular advantageous, Vietnam's coastline stretches for 3,200 km allowing access to the world's major seaborne trade routes. CEA's blueprint for success in Asia has already been proven, with our Myanmar operations expanding exponentially over the last four years, we at CEA hope to replicate similar success in Vietnam.
Although Laos has not yet reached the same stage of development as Vietnam, it is quickly emerging and positioning itself as a Logistics hub in the region. The landlocked country strives to become the preferred choice for investment and development, especially in the Mining and Power sectors. Their recent membership to the United Nations Economic and Social Commission for Asia Pacific (UNESCAP) will only enhance the country's appeal. CEA have been operating in Laos for over two years undertaking several cross-border transportation projects and now feel the time is right to expand.
Click to learn more about CEA Vietnam and CEA Laos
To find out more details of what CEA Project Logistics can provide in our new locations please contact our respective managers.
CEA Projects Vietnam
Brett Malcolm
brett.malcolm@ceaprojects.com
+84 0697 9439
Office Address
2nd Floor, 161C Tran Hung Dao
Co Giang Ward, District 1
Ho Chi Minh City, Vietnam
+84 9374 02599
CEA Projects Laos
Paul Jones
paul@ceaprojects.com
+66 922 780 363 (Thai)
+856 20 5596 1863 (Laos)
Office Address
Unit 14 , Thapalanxay Village
Sisattanak District, Vientiane Capital
Lao PDR
+856 20 5596 1863