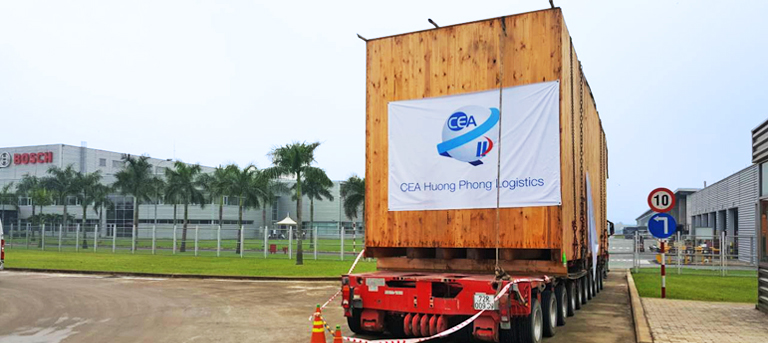 CEA Deliver Machine Line Components for BOSCH Vietnam
CEA Project Logistics Vietnam recently completed a project in conjunction with fellow Project Cargo Network member Austrian-based logistics service supplier, Gebrüder Weiss, for the customs clearance and transport of Machine line Components to the BOSCH Vietnam factory in Long Thành District, Southern Vietnam.
The cargo of components arrived from Germany at the Cai Mep International Terminal, 50 kilometres southeast of Vietnam's commercial hub, Ho Chi Minh City. Upon arrival teams from CEA proceeded with the necessary customs documentation while the cargo was loaded on to multi-axle low bed trailers. After all the import documentation was completed the cargo left the terminal and made the 40km trip to the BOSCH factory in Long Thành.
About Gebrüder Weiss:
Gebrüder Weiss is a traditional transport and logistics company founded in 1473. The company is wholly owned by the Senger-Weiss and Jerie families, and the head office is located in Lauterach, Vorarlberg. It is represented worldwide at 150 locations. Since the eastward enlargement of the EU in 2004, it is also increasingly active in Eastern and Central Europe. The largest logistics terminal of Gebrüder Weiss was opened to the public in Maria Lanzendorf near Schwechat in 2006.
About BOSCH:
Robert Bosch GmbH, or Bosch, is a German multinational engineering and technology company headquartered in Gerlingen, near Stuttgart, Germany. The company was founded by Robert Bosch in Stuttgart in 1886. Bosch is 92% owned by Robert Bosch Stiftung. Bosch's core operating areas are spread across four business sectors; mobility (hardware and software), consumer goods (including household appliances and power tools), industrial technology (including drive and control) and energy and building technology.
Click on image for full size