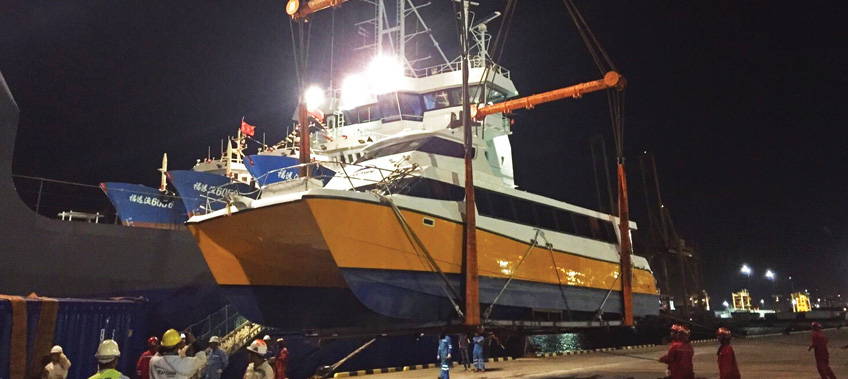 CEA Transport & Export Catamaran Ferry
CEA Project Logistics Thailand was contracted for the transport, storage and export of a Catamaran Ferry from Chonburi, Thailand to Freetown, Sierra Leone in West Africa. The Catamaran is an ISO Cat. B Offshore Class weighing 17 tonnes and 17 meters in length and powered by four Yamaha GETU 250 HP engines. When in service the ferry can carry 80 passengers and crew.
The ferry was moored at Ocean Marina Yacht Club in Chonburi, Thailand. CEA Teams arrived at the Yacht Club and supervised the initial lift from the water via a straddle carrier and the subsequent loading on to specially fabricated frame which was attached to a standard lowbed transport trailer.
Due to the height restrictions on Thailand's roads, the top section of the ferry was removed to allow safe transport along the route to the CEA Facility. The top section was loaded and secured with ratchet straps onto a separate trailer. Once the CEA rigging teams had secured the ferry to the trailer the prime mover left the yacht club to make the 33 km to Laem Chabang and the CEA Free Trade Zone where it was held in storage until the shipping vessel Atlantic Dawn arrived at port.
After seven days in storage, the ferry was transported to Laem Chabang Port under CEA escort and readied for loadout which included the top section being reattached. Port and vessel stevedores executed the loading and stowage aboard the Atlantic Dawn. CEA provided all the necessary shipping and customs documentation in preparation of export.
The client upon receiving the order to manufacture the catamaran did not anticipate that shipping such a vehicle to Sierra Leone would be an issue, however, after extensive and unsatisfactory service from four different Freight Forwarding companies. They contacted CEA who offered the Full Turnkey service.
The client stated:
"After we had made contact with CEA, from that point on what had been a most unpleasant, expensive and frustrating experience became a routine operation. The Teams at CEA arranged prompt and hassle free transport from the Ocean Marina Yacht Club to Laem Chabang and the subsequent loading onto the vessel a week later. All this was achieved with the minimal involvement required from us, which was so refreshing from what we had previously experienced. A professionally handled project from start to finish by CEA"
To view the full case study on this transport and export project Click Here