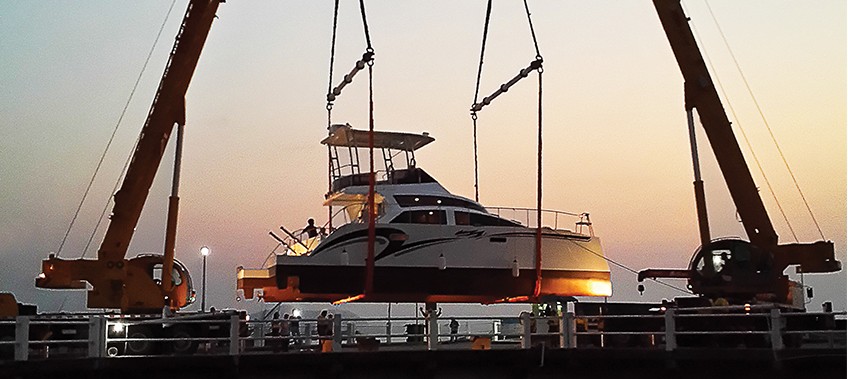 CEA Heavy Lift Services
Most large projects will require, to some degree at least, a heavy lift especially if assembly is involved. To ensure that this is both feasible and safe the correct equipment must be used and a detailed plan and survey must be conducted. This planning and surveying must be carried out by experienced, qualified professional who will be able to look at this lift from every perspective. This may be using CAD software or by calling upon their years of experience but usually it is a combination of the two.
A Heavy lift is also required when shipping is involved as it is essential that all cargo is correctly placed and secured ensuring the safe transportation of your equipment and also that of the vessel. The team at CEA have several years experience with this and can work with you and your team to ensure that everything is carried out safely and securely.
The planning that is involved with all types of heavy lift is usually far more time consuming than the actual lift itself and may require a few meetings to ensure that it is carried out correctly. There are many things that need to be taken into consideration such as safeguarding existing structures, the load itself but most importantly the people involved in the lift and those who may be in the vicinity. The utmost care must be taken and all eventualities considered ensuring that ' every Heavy Lift is a safe Heavy Lift ' and therefore no stone is left unturned.
Regardless of how complicated your project may appear, if the technology and engineering experience is available, CEA Project Logistics will be able to offer innovative solutions for all your heavy lift needs. CEA prepare simulated, 3D drawings using AutoCad and scientific calculations are made to ensure that all equipment is working within safe and operational parameters. An hourly plan is prepared and adhered to at all times ensuring everyone's and everything's safety.
Once the painstaking planning has been completed it is important that the right equipment is used. CEA Project Logistics have a range of machinery specifically designed for a variety of roles. Obtaining this equipment for your company for a single project is unlikely to be financially viable so this is when you would call upon the services of a professional company to assist you.
If a heavy lift service, both on site or in the transportation of cargo is something that your business requires please contact us today to discuss your individual requirements further.
For more on CEA Heavy Lift Services Click Here