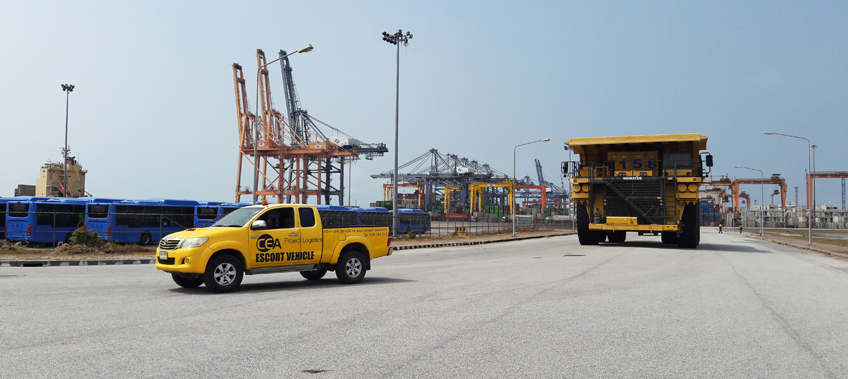 CEA Free Trade Zone Export Komatsu's
Back in February of last year, CEA carried out the unloading and storage of 13 Komatsu's 830 E Ultra Class Haul Trucks. The trucks had originated from a mine site, deep inside Central Kalimantan, Indonesia and arrived at the C-0 terminal in Laem Chabang Port on the vessel HR Recommendation. After unloading they were transported under CEA escort and stored at the CEA Free Trade Zone also located in Laem Chabang Port.
Now after one year in storage at the Free Trade Zone all 13 trucks were to make their next journey to Russia to begin service on a mining project. During the original project, all trucks were transported to Free Trade Zone by 24 axle Combination Self Propelled Modular Transporters (SPMT), however, on this occasion the trucks were driven to the load out location at the C-0 terminal by CEA drivers specially trained in the operation of the Ultra Class Haul Trucks.
Before any of the Komatsu's left the storage area each one underwent an inspection and test drive around the yard to ensure that every system of the truck was functioning correctly. After all checks were completed and satisfied the trucks began the short journey across the port one by one. Each truck was shadowed by two CEA escort vehicles per trip to ensure maximum safety for all other vehicles on the route.
Upon arrival at Terminal C-0, the first truck was positioned alongside the Singaporean-flagged vessel AAL Dampier. The Dampier's stevedore team quickly got to work securing the necessary rigging equipment for the first truck to be lifted.
To maintain efficiency throughout the project, as each Komatsu began its lift on to the vessel the next one would begin the journey from the CEA Free Trade Zone. This efficiency resulted in all 13 Komatsu Trucks being onboard secured and ready for shipping in less than two days, one day earlier than had been initially projected, and much to the delight of the client.
The strategic location of our Free Trade Zone facilities in Laem Chabang enables us to offer a comprehensive scope of logistics services with realistic cost savings for our clients, for more information on what services CEA can offer, contact us today.