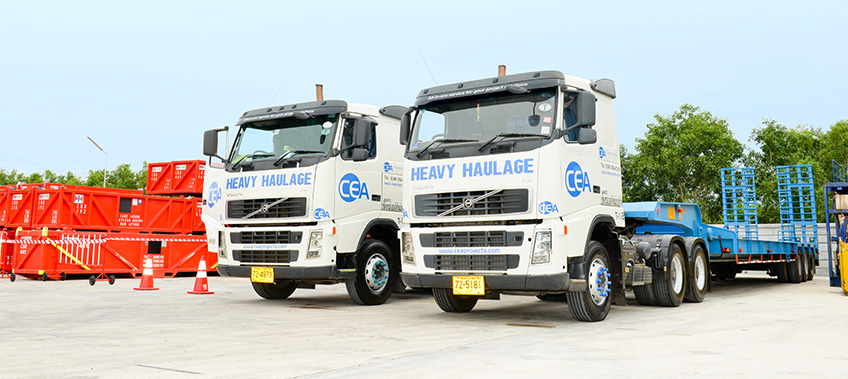 Open Day Success For CEA Songkhla!
CEA Project Logistics Songkhla opened its gates to over 100 visitors on Wednesday, September 9th.
The purpose of the open day was first to show the Logistics, Oil & Gas, and Offshore sectors the services and equipment that CEA Songkhla can provide. And secondly for two presentations to be made by Martin Sharp of Swire Oilfield Services on the DNV 2.7-1 / EN12079 standards and to showcase their new Offshore Workshop Containers.
As this was the official opening of the CEA facilities Buddhist monks arrived early and began their prayers and blessings, wishing prosperity to CEA. Guests arrived soon after to take their seats in the huge marquee that was erected especially for this event. At 10:30am Kevin Fisher, Managing Director of CEA gave a speech welcoming all, followed by the history of CEA Songkhla and what lays ahead for the company and the region in general. After the speech employees of CEA Songkhla gave a guided tour of the Songkhla yard detailing the services on offer.
A sumptuous buffet was provided for all guests and proved very popular, the menu catered for both Thai and Western palates and was complimented by all. After lunch, Martin Sharp gave his first of two presentations on DNV standards followed by a very busy Q & A session in which Martin answered a lot of questions that had been previously unclear. For his second presentation, Martin focused on the new Swire KC Workshop Container and the benefits of the Swire OverVu Track and Trace system. After the presentation was concluded the successful open day was brought to a close.
CEA would like to thank Martin Sharp and Swire Oilfield Services for their support in the open day, and a very special thanks to all the guests who attended what proved to be a memorable day in the history of CEA Songkhla.
Click to learn more about CEA Songkhla