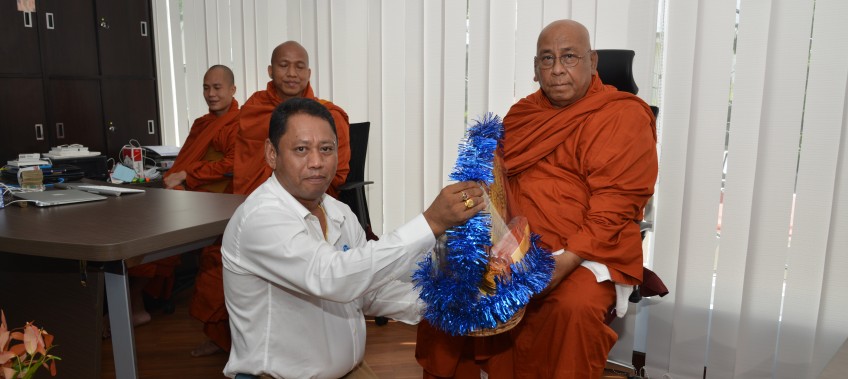 CEA Myanmar Receives Special Blessing from Monk Sitagu Sayadaw
CEA Project Logistics Myanmar recently opened a new office in central Yangon, Myanmar. To mark this auspicious occasion CEA were honoured by the attendance of Monk Bhante Ashin Nyanissara commonly known as the Sitagu Sayadaw and his fellow monks to bless the new office and wish good luck and a prosperous future.

Sitagu Sayadaw is Myanmar's most revered religious figure and is respected throughout the world and by non-Buddhist religions. In 1978, he founded the Sitagu International Buddhist Missionary Center, shortly after establishing a monastery in Sagaing Hills in Myanmar.
Bhante Sitagu Sayadaw is known for his charismatic leadership and practices of socially-engaged Buddhism. His organisation has funded many social projects in Burma, including water pumps, construction of hospitals, including the Sitagu Ayudana Hospital in Sagaing in 1985, and the Sitagu Buddhist Academy in 1998.
Bhante Sitagu Sayadaw is lauded for his missionary and charity works, especially in the aftermath of Cyclone Nargis in 2008, which killed upwards of 100,000 in the country's delta regions.
John Hamilton Country Manager Myanmar said, "To have someone so esteem as Monk Sitagu to come bless our office is truly amazing, this man has done so much for the people of Myanmar a trait that we wish to emulate with CEA Project Logistics". After greeting the staff of CEA Myanmar a blessing ceremony was performed before sitting down to a sumptuous buffet prepared in honour of the guests.
Click to learn more about CEA Myanmar