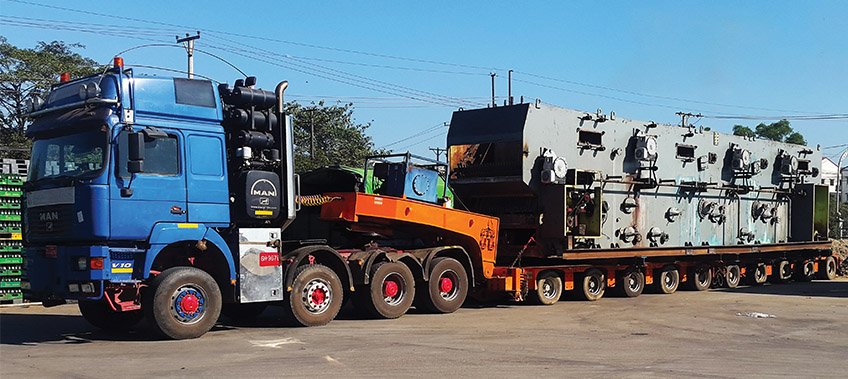 CEA Myanmar – Bottle Washer Relocation
CEA Projects Myanmar recently undertook a project for the moving of a 25-year-old bottle washer from Wardan in downtown Yangon to the clients' new soft drink manufacturing plant 20kms away in the Northern Yangon district of Shwe Pyi Thar.
The washer weighed over 45 Tonnes and had been affixed in the same position since its installation over 25 years ago. The washers dimensions of 14m x 3.4m x 4m (LxWxH) resulted in a careful and meticulous removal as the washer was moved from its original operating area, skated through 90 degrees then jacked 1.2 meters off the ground and readied for transportation.
Due to the complexity of the Transportation, special permits were required from six Yangon Townships prior to moving the washer. Due to certain height restrictions on the roads of Yangon the transportation began in the early hours to take advantage of the low volume of traffic. CEA teams ensured that power lines, traffic lights and other potential roadside hazards were avoided and kept intact throughout the journey.
Upon arrival at the new factory the washer was turned to the correct angle and carefully skated into position. The final procedure consisted of levelling the washer to the correct height making it ready for installation and operation. Once again CEA Myanmar in conjunction with CEA Thailand have shown their expertise in a potentially difficult and challenging project that's was completed on time safely and within budget.
Click to learn more about CEA Myanmar