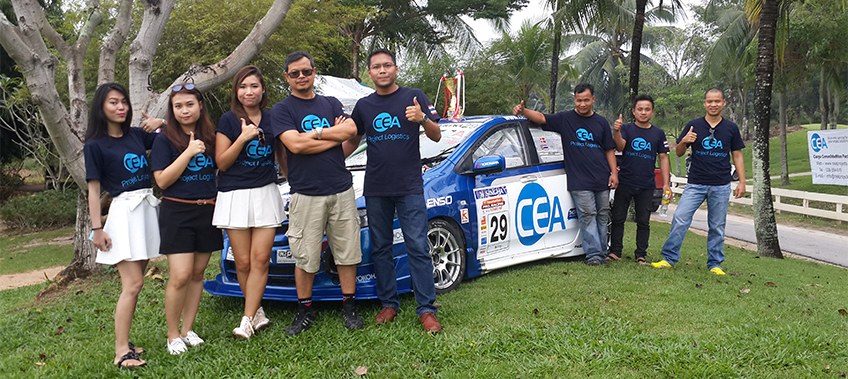 CEA Support TOCI 2014
CEA Project Logistics organized a food and beverage stop at the TOCI 14 Golf Tournament, replete with the CEA Racing Car and two lovely pretties the stop became quite popular! 320 thirsty and hungry golfers passed through the stop over the two days and were met with a cold towel and a colder beer!
CEA representatives greeted the players as they arrived for some much needed shade and a chat! The CEA racing car became the star attraction with players and caddies alike vying for a photo with the car and its driver Thomas Raldorf.
A great two days meeting old friends and making new ones. CEA would like to thank all the staff at Green Valley Golf Course for the support they showed during and leading up to the event.
More about the Tournament:-
The Thailand Oilmen's Charity Invitational (TOCI) Golf Tournament is an annual golf tournament held in Pattaya, Thailand each December. This popular event allows the Thai Oil & Gas industry a unique opportunity to gather in an informal environment, play golf and socialize with friends and business associates. Equally as important is the fact that net proceeds from the tournament are donated to Thai charitable organizations. Last year was another highly successful tournament and more money was raised for charities than previous years, enabling TOCI to contribute over 10 million Baht to the charity organizations. Since its inception, the TOCI has contributed over 90 Million Baht to various charity organizations in the past 22 years!
Tournament funding is provided entirely by generous sponsors. Most of the tournament committee members belong to the Society of Petroleum Engineers and all work on a volunteer basis.
The TOCI is an invitational tournament, and each year invitations are sent to companies involved in the Thai Oil & Gas industry.