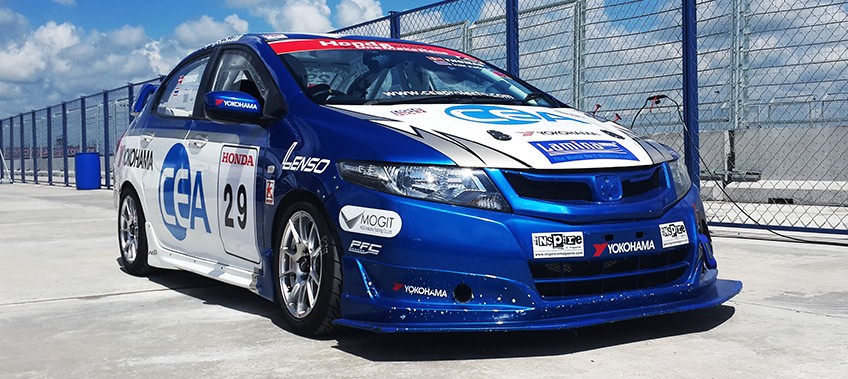 CEA Racing Revved Up For The 2015 Season
Having won the 2014 Team Championship but having missed out the drivers' championship title by only a couple of points, the team has a clear goal for 2015, the drivers championship title must be won back!
Pre-Season began with the team working alongside Peter Jaeger a professional race engineer from Denmark, a plan was prepared and actioned for the improvements that were needed on the car, in turn, making the team competitive right from the start of the season ensuring valuable championship points aren't lost.
The car was stripped down, jigged and the chassis weld seams were inspected, additional seams were added for a more rigid body resulting a better handling car. The engine and gearbox were updated with latest developments.
Pre-season testing has been very positive and the car seems to be much more competitive than at the start of the 2014 race season.
CEA Racing driver Thomas Raldorf is remaining tight-lipped and a little coy on where the team is regards performance compared to the chasing pack, as he is well aware that the other leading  teams continue their development program throughout the offseason.
Thomas stated "After qualifying for the first race of the season we will know where we are compared to everybody else, before then it's too early to say" Further adding "the only thing I know for sure is that we have a much improved and faster car than the previous year, so I am confident we will be in the top 5 no matter what the other teams progress has been.
In 2015 CEA Racing have added a "CEA Junior" Race team who will be will be entering the NITTO 3K Thailand National Championship.
The Senior CEA Racing team will be entering 2 Championship Series:
Thailand Super Series
Grand Prix Racing League
 Target position in each championship FIRST!
To learn more about CEA Racing & TR-Motorsport Click Here