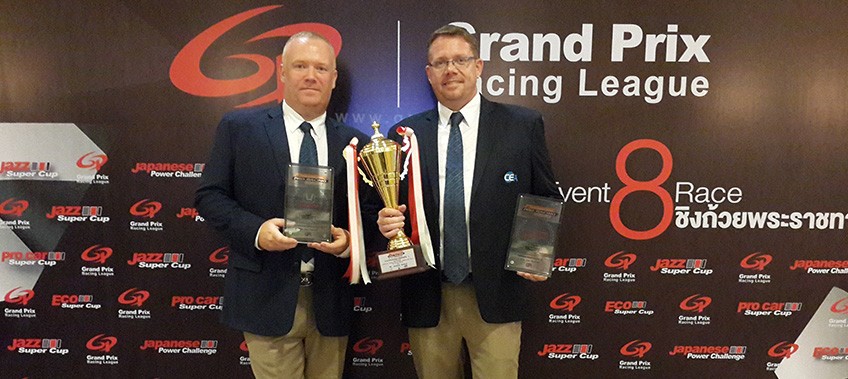 CEA Racing Award Winners!
The Bangkok Motor show provided the backdrop for 2014 Pro Racing Series (now named Grand Prix Racing League) awards dinner. CEA Racing had a fantastic 2014 season narrowly missing out on the drivers' championship but winning the overall team championship and securing second place for the driver's title. Along with these two awards CEA Racing were giving the honour of collecting the winning manufacturer's award on behalf of HONDA motorsport.
The evening began with a fine array of food and drinks being offered to the teams and their guests, it was a great time to catch up with all the other teams since the season ended. As the VIP's were seated Khun Annothai head of The Grand Prix Racing League and Team Eakie Motorsport gave a speech giving thanks to all who had contributed to such an exciting and enjoyable 2014. He also announced that a new class of car would be entering the series for 2015 'Japanese Power Challenge' this was met with great cheers and applause from all.
After all the speeches were complete a short interlude followed while all the winners were briefed of the protocol for collection of their awards.
CEA Racings Thomas Raldorf graciously collected his trophy for 2nd place in the drivers' championship but more importantly collected the 1st place trophy for winning the team championship. Earl Brown of CEA collected on behalf of Honda motorsport the winning manufacturer's award for 2014.
Although CEA racing fell so agonizingly short of the drivers title they were still very happy with the nights proceedings, thoughts now turn to 2015 and going one step further.
CEA Racing would like to congratulate all the winners for 2014 and look forward to some more exciting racing in 2015!
Photos courtesy of Grand Prix Racing League
To learn more about CEA Racing & TR-Motorsport Click Here
Follow CEA Racing on Facebook
Get the all latest information from fixtures, results and great photos