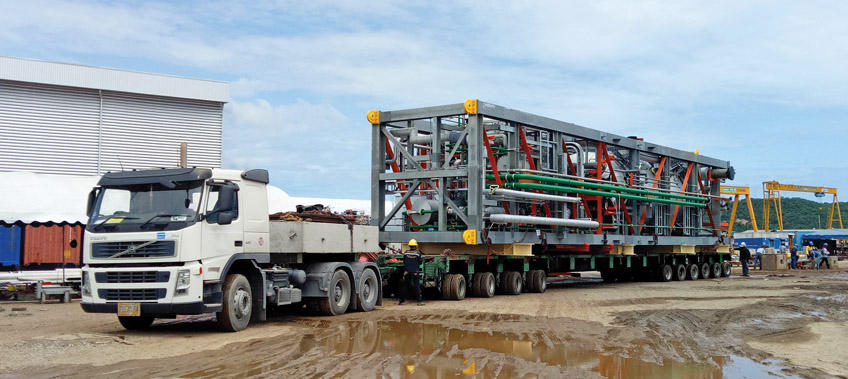 CEA Provide Logistics Services for Ethoxylation Plant
The Engineering, Procurement and Construction of an ethoxylation plant for Oxiteno in the United States were undertaken by a multinational industrial group who built the plant at a Shipyard Engineering facility in Laem Chabang Port, Thailand. The engineering company were also contracted to for supporting services including lifting, weighing and loadout activities, amongst others.
CEA Project Logistics supported both the industrial group in their capacity of the EPC contractor and the shipyard engineering company in their capacity of services sub-contractor.
The ethoxylation plant was assembled at the Shipyard in Laem Chabang in a modularized configuration of 15 modules and 3 vessels (filtration tanks). Prior to the dismantling of the assembled plant, CEA followed a demanding schedule to design, fabricate on-site and install temporary steel and wooden supports for over 300 individual valves, given the requirement for each module to be laid down for the purposes of shipping each support had to fully secure each valve in its shipping position to prevent damage and stresses to pipe work and other structures during land and sea transportation.
In addition to the supporting of the valves, CEA also provided the full scope of services for the preservation of all the equipment exposed during land and sea transportation to the USA. Preservation work was carried out for every control valve and pump on each of the modules and pipe racks to ensure protection against oxidation rust and dust from moisture and air.
As well as supporting both companies, CEAs' comprehensive services were extended to supporting the activities of the Shipyard Engineering by providing services for both the weighing of each of the 15 modules and 3 vessels and providing detailed engineering weighing report. Each of the modules were lifted from the plant assembly area, re-orientated in to the horizontal and supported on temporary plinths, after which CEA utilized a hydraulic trailer to jack up the modules to position wireless load cells under the structurally agreed locations, CEA then provided very detailed reports of the masses and CoG position for each module/vessel to support downstream activities.
In addition, CEA provided the full scope of loadout services to transport the 18 units from the shipyard to alongside vessel at the C0 in Laem Chabang Port. CEA provided the full services of route transport surveys, securing and loadout using hydraulic trailers. Total project duration was just under four weeks, to view the Case Study for this project Click Here.