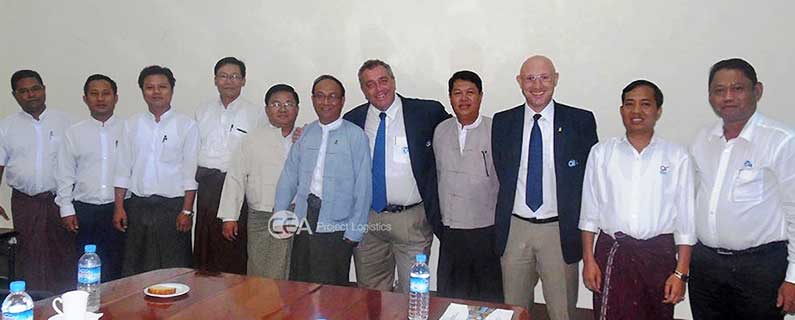 CEA Myanmar Approved by M.O.G.E
CEA Myanmar has just been approved by the Ministry of Oil Gas and Energy (MOGE) for Myanmar as an approved Logistic, warehousing equipment supplier for cranes , forklifts, and trucks.
CEA Myanmar was established in January 2013 in and is fast becoming one of the foremost international supply chain and logistics supplier in the country. Initially starting with just 3 people CEA has seen exponential growth in 12 months and now boast a complement of 100 project logistic professionals and is currently operating warehouses and logistic services 24/7 for 3 of the largest telecoms equipment suppliers in the country.
With the MOGE approval now in place, CEA is in the perfect position to plant its flag in the oil and gas logistics fields. When asked what he thinks about the future in Myanmar, John Hamilton, Country Manager stated that,
"I feel the Myanmar market is just about to explode, the government is doing a sterling job to promote inward investment and the playing field is set for some serious growth as the country emerges from years of little or no development. CEA with an already strong base in Asia feels it is set for positive growth in the Myanmar market and we feel we can really contribute to taking service levels to a new high for oil and gas service companies entering the market"
CEA is a company well established in Asia, founded on years of experience in heavy lift, project logistics, sea and road transportation, cargo consolidation and AQIS quarantine prior to export.
Click to learn more about CEA Myanmar