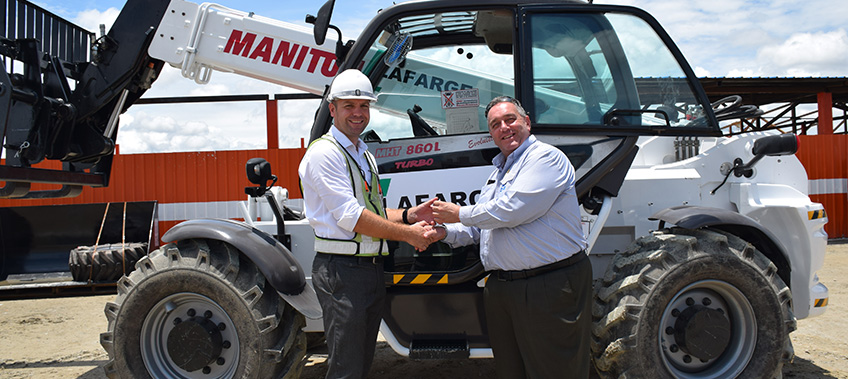 CEA Myanmar Delivers Manitou Telehandler
CEA Myanmar delivered a Manitou MT860 Telehandler to the global construction company LaFarge, to be used at their recently acquired ready-mix batching plant. The batching plant supplies concrete for the new condo development and construction in Star City.
Kevin Fisher Managing Director of CEA Project Logistics handed over the keys to Philip Hughes, Plant Manager for LaFarge at the Star City construction site.
"This is the first batching plant for Myanmar, and with state of the art equipment like our new Manitou Telehandler we can ensure client satisfaction"
The robust machine has a 6- tonne capacity and 8 metre reach enabling the unit to load sand, aggregate and other materials used in concrete production. LaFarge opted for a 3 cubic meter bucket attachment and hydraulic brush attachment which will aid in keeping the plant clean.
Star City is a premier development located on the South Bank of the Thanyalin River and is a self-contained project complete with gym, restaurants, golf course and sports club.  The location is just 12 kilometers away from the Thilawa Special Economic Zone development and 15 kilometres from downtown Yangon.
LaFarge is one of the world's large concrete producers and has a strong foothold in Myanmar riding on international standards for concrete production.  The ready-mix plant is a first for LaFarge in Myanmar which already has a bulk concrete plant supplying Yangon's growing infrastructure.
Click to learn more about CEA Myanmar