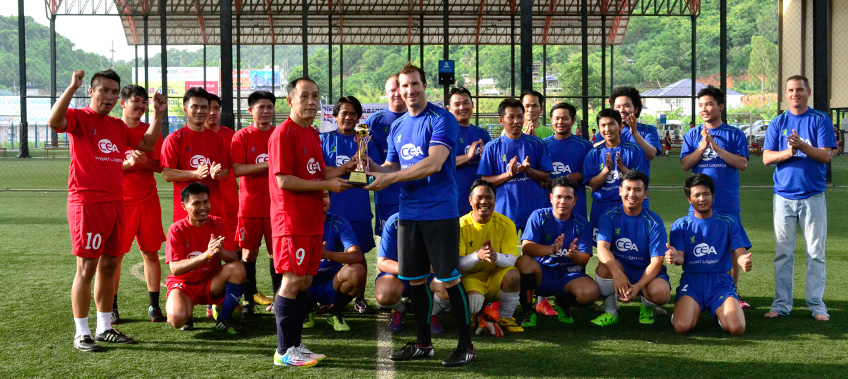 CEA Football Match Increases Community Spirit
THE CEA Project Logistics newly formed Football Team took on the might of the Chonburi Police force to battle it out for the inaugural Laem Chabang Cup.
The teams and supporters arrived early at the Sriracha Arena to soak up the pre-match atmosphere with the CEA players consuming energy drinks at an alarming rate in the hope of improving their stamina! Before the game began a small ceremony was conducted, Andy Hall Director of Operations along with the Chief of Chonburi Police cut a ribbon to officially open the game.  Pre-match photos were taken and both teams began their warm up.
The match was split into three 20 minute periods enabling everyone involved to get a chance to show their skills or in some cases show themselves up! As kick off approached a few players looked worn out already from the warm up, the referee blew the whistle and got the match underway, both teams started nervously feeling each other out to find that vital breakthrough.
Soon enough the skill and experience of the Police Force shone through with the opening goal quickly followed by another, however, this wasn't to be a landslide as CEA pulled one back five minutes before the end of the first period. During the much-needed break, lots of fluids were taken on by both teams especially Earl Brown CEA's Marketing & Communications manager who probably drank his own body weight in water, which is a lot of water!
Both teams made changes to their line-up and the second period started much the same as the first, CEA struggled to find the net in the 20 minutes, while at the other end the Police team managed two more goals which was a very respectable amount for the fledgeling CEA team. As the final period began the CEA team in their stunning blue, but very sweaty kit was tiring fast with more and more substitutions taking place. The ball crossed the CEA goal line several times but as the scoreboard wasn't functioning the count was lost! There was just time for a couple of late consolation goals from CEA before the Referee brought the game to a close.
The Chonburi Police Force ran out comfortable winners and were presented with a magnificent gold trophy, however, on this day the score and the winners weren't important it was all about camaraderie and friendships within the community. Andy Hall took to the Microphone and thanked the players, organisers and supporters for making the event a great success.
A special mention has to be made to Adrian 'Chopper' Zonneveldt Deputy Operations Director for CEA, who in just 5 minutes and 32 seconds on the pitch managed to fall over twice when no one was around him and upend the Chief of Police for Chonburi while the ball was at the other end of the pitch!
Click to learn more about CEA Corporate Social Responsibility program