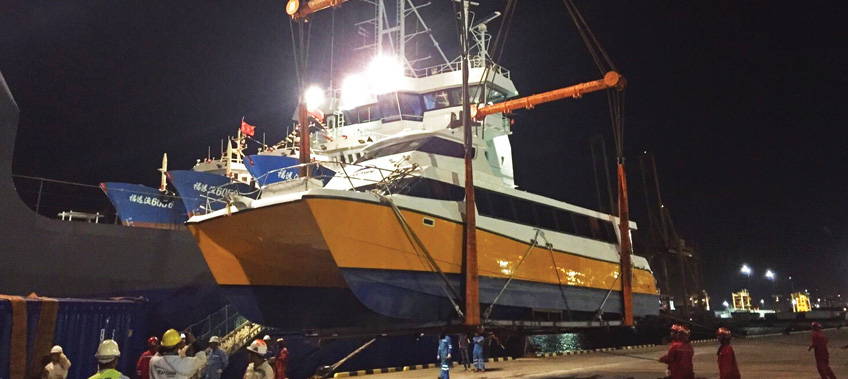 Catamaran Transport & Export
CEA Project Logistics was contracted for the transport, storage and export of a Catamaran Ferry from Chonburi, Thailand to Freetown, Sierra Leone in West Africa.
The ferry was moored at Ocean Marina Yacht Club and was lifted from the water by the on-site Marine Straddle Carrier. CEA Teams were on hand to supervise the lift and to execute the lowering and loading onto a specially fabricated frame that was attached to a standard Lowbed transport trailer.
Due to the height restrictions on the roads during transport, the top section of the ferry was removed and loaded onto a separate trailer. After the CEA rigging teams had secured the ferry to the trailer, the prime mover and its cargo began the 33km journey to Laem Chabang. The ferry, upon arrival, was stored at the CEA Free Trade Zone until the shipping vessel Atlantic Dawn arrived.
After seven days in storage, the ferry was transported to Laem Chabang Port under CEA escort and readied for loadout which included the top section being reattached. Port and vessel stevedores executed the loading and stowage aboard the Atlantic Dawn. CEA provided all the necessary shipping and customs documentation in preparation of export.
Locations
Chonburi, Thailand.
Sierra Leone, West Africa.
Duration
7 Days (excludes shipping time)
Boat Specifications
Model Catamaran
Weight 17 Tonne
Length 17 Meters
Beam 5.5 Meters
Capacity 80 Passengers
Class ISO Cat. B (Off Shore)
Engines 4x Yamaha GETU 250 HP
Equipment Used
Marine straddle carrier
Prime mover
Bespoke boat frame
Lowbed trailer
Hiab crane truck
Services Used
Rigging teams
Customs team
Shipping & Export teams
CEA Escort vehicle leads the convoy
Lifting onto the Atlanta Dawn vessel
Unloaded on the water Sierra Leone