Regions of Operation
Thailand <> Vietnam
Thailand <> Laos
Thailand <> Cambodia
Thailand <> Myanmar
Thailand <> Malaysia / Singapore
Vietnam <> Laos
Vietnam <> Cambodia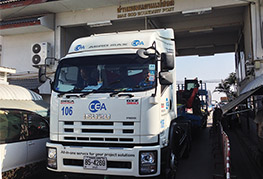 Mae Sod border crossing Myanmar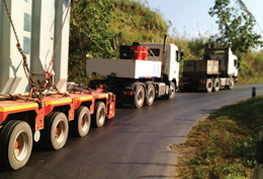 CEA Convoy heading into Laos
CEA provide cross border transport services throughout the ASEAN region offering customers full cargo consolidation, transportation, customs and duty clearance and specialising in industrial gas, chemicals and bulk commodities.
Our experienced teams facilitate all documentation regarding import permits and customs clearance and are well-versed in the transportation processes for gas, chemicals and other commodities into neighbouring countries.
Our fleet includes an In-Vehicle Monitoring System (IVMS) giving the customer greater insight and control
CEA offer the flexibility of new routes to all our clients, additionally, we provide visibility, security, extra capacity and the option of multi-modal transportation for finished goods, machinery, raw materials, gases and chemicals. Consolidation services are also offered at our logistics base in Laem Chabang, Thailand enabling us to offer you a full turnkey solution to your cross border transport projects.